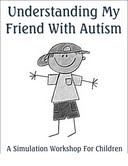 Understanding My Friends
​ With Autism
(Home Edition)

​*
For use with groups of more than 10 participants,
​please see our School/Organization Edition​
​​​​​​​​​
Un
derstanding My Friends With Autism
is a program designed
for children ages 5–11, to help them understand why children
with autism act the way they do.
​​​The program is driven by a video made by a young girl called Charlene who has autism. She explains why children with autism like her frequently stim, have meltdowns, walk away from others for no apparent reason or find it hard to have a conversation with others. At specified times, there is a break in the video where the participants can perform simulation exercises to help them experience first hand how annoying sensory issues can be.
​
Topics covered:
​​​​​​​​​
Communication
Social difficulties
Sensory issues: - Sight, Touch, Hearing, Smell
The need for routine
What is included:
​​​​​​​​​
Other Items Needed

(Not included in the package, but may be purchased separately)

:
​
​Oven mitt
Pencil
Clip Board​
*The simulation exercises are explained in detail during the presentation​​. Many children will be able to watch the program and perform the exercises without adult supervision. It is highly recommended, however, that an adult participates in the presentation in order to enhance and personalize the learning experience.
​
​